Latest Drops and Restocks!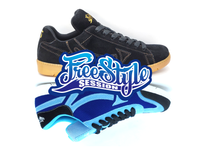 FSS x Dyzee Collab
Our first World Championship Event collaboration Break shoe! Also our first event in the USA Dyzee Threadz officially vending at.
Few pairs are still available, however we only ship to USA and Canada.
Check it out
Last Pairs & Special Deals
Dyzee Threadz Fashion Showcase 2022
Who has rocked a style in our shoes?
Testimonials
Recently copped @dyzeethreadz white elephants. Love the way they feel! Super light, and flexible and they just look super fresh IMO. I almost don't even wanna break in them to avoid scuffs aha might have to cop another pair that's not leather for slides and stuff and just wear these for the look/display.

Bboy Siahnara (Calgary, Canada)
...clearly these are the perfect shoes for breaking 🔥

Bboy JazzyJ (Las Vegas, USA)
The 2Stepz sneaker has me feeling like I have no shoes on. Such a weird but dope feeling!

Bboy Stanzer (Denver, USA)
As an all styler I love these shoes! They are flexible, light and the more you break them in (no pun intended) the better they work with your style. Not only do they have all these functions but they are stylish and I wear them as everyday shoes as well! They are true to the culture and super dope!

Yangzer (Pittsburgh, USA)
I've been rocking @dyzeethreadz original Numbawonz and the new 2Stepz for a while now and they've both just blown my mind, switching over to my superstars and vans feels so weird and can tell the dyzees were actually made for breaking. I would say the best aspect is how lightweight but durable they are, super responsive and make my foot work feel 10X better

Bboy Shredder (Winnipeg, Canada)
I'm honestly super happy I have a pair. I've never had a breakin' shoe so good.



Bboy Kobe (Guam USA)
Both hiphop and breaking is amazing in these sneakers. What I like most about them? They don't leave room for excuses when you're having trouble executing moves, they're never in the way, too grippy, too slippy, too heavy or too fragile.

Bboy Marksman (Netherlands)
- Lightweight shoe
- Nice size/shape for grabbing/threading
- Soles are antislip and also not sticky, which makes spins easy but you also have enough grip.

Bboy Flowmer (Netherlands)
Best dance shoe, no matter what style you do! Good grip for control, flexible soles, suede to slide, cushion for support, color for style.

Bboy Kid Illusion (Charlotte, USA)
Proud members of OBBA
We are proud to announce our membership with the first ever official Breakin' brand association! We are planning big things for the culture. When you support true Breakin' brands, you are supporting a better Bboy and Bgirl future where the power is in our hands.
Learn More