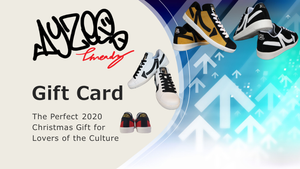 Looking for the perfect gift to give a Bboy, Bgirl, or lover of the Hip Hop Culture? These online gift cards can be used on anything in our webstore.  Give to your special someone on Christmas / Christmas day and have them use the gift card on our Boxing Day Sale!
We are also having a crazy 2021 Spring Summer Pre-sale release in January with never seen before colorways and special upgrades on the Numbawonz and 2Stepz! 
Or send this link to people who don't know what to get YOU as a present!